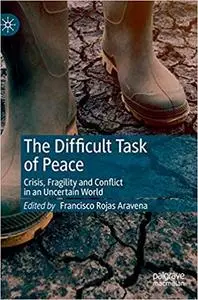 Rojas Aravena, Francisco, "The Difficult Task of Peace: Crisis, Fragility and Conflict in an Uncertain World"
English | ISBN: 3030219739 | 2020 | 320 pages | PDF | 3 MB
This book provides a holistic view on the topics of peace and conflict, peace education, international relations and regional studies during the end of the second decade of the twenty-first century. It collects the studies, experience and analysis of faculty members of the University for Peace presented in three sections: regional and institutional outlook, and common challenges and interventions. Some of the topics in this book include the complex concept of peace; governance and security in Africa; peace and conflict in the Middle East; maritime security conflicts in South China Sea, the European Union in a multipolar world, religious fundamentalism and violent extremism; food security, climate change; and participatory action research in the culture of peace. Scholars, capacity building trainers, policy makers, politicians, lawyers, and individuals interested in international affairs among others might find in this book a diverse academic source for further analysis in their respective fields.