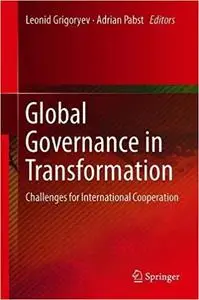 Leonid Grigoryev, "Global Governance in Transformation: Challenges for International Cooperation"
English | ISBN: 3030230910 | 2020 | 297 pages | PDF | 5 MB
This book analyzes the state of global governance in the current geopolitical environment. It evaluates the main challenges and discusses potential opportunities for compromise in international cooperation. The book's analysis is based on the universal criteria of global political stability and the UN framework of sustainable development. By examining various global problems, including global economic inequality, legal and political aspects of access to resources, international trade, and climate change, as well as the attendant global economic and political confrontations between key global actors, the book identifies a growing crisis and the pressing need to transform the current system of global governance. In turn, it discusses various instruments, measures and international regulation mechanisms that can foster international cooperation in order to overcome global problems.
Addressing a broad range of topics, e.g. the international environmental regime, global financial problems, issues in connection with the energy transition, and the role of BRICS countries in global governance, the book will appeal to scholars in international relations, economics and law, as well as policy-makers in government offices and international organizations.