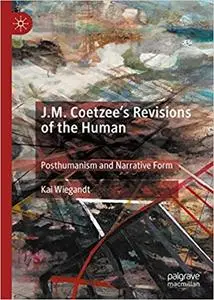 Kai Wiegandt, "J.M. Coetzee's Revisions of the Human: Posthumanism and Narrative Form"
English | ISBN: 303029305X | 2019 | 280 pages | EPUB, PDF | 1349 KB + 2 MB
"Kai Wiegandt's study offers a nuanced, thoroughgoing and deeply engaging account of novelist J.M. Coetzee's revision of our core ideas of the human―not least the human sense of uniqueness that we have invested in our belief in reason and conviction of God-likeness. He persuasively analyses the careful ways through which Coetzee deploys narrative as a mode of thinking through such human and post-human questions, so developing a fresh and original approach Wiegandt calls 'anthropological realism'. Drawing on thinkers from across the French, German and Anglophone traditions, Wiegandt has produced a fiercely insightful and committedly interdisciplinary study."
― Elleke Boehmer, Professor of World Literature in English, University of Oxford
"J.M. Coetzee's Revisions of the Human offers a bold and compelling argument that is sure to make a serious intervention in Coetzee criticism. Wiegandt introduces several new fields of enquiry in relation to Coetzee's fiction; the discussions thus reframe well-worn debates in an innovative way, making for unexpected insights in seemingly familiar critical terrain. The book opens up a valuable and thought-provoking perspective on Coetzee's work, and will be of particular interest to the philosophically-minded Coetzee specialist."
― Carrol Clarkson, Professor and Chair of Modern English Literature, University of Amsterdam
"Tracking skilfully across the shifting terrain of J. M. Coetzee's fictions, Kai Wiegandt draws out their philosophical and literary intertexts in this lucid, erudite and compelling book, and thereby illuminates a fundamental concern that has persisted throughout Coetzee's career: to probe and push our ideas of what it is to be human."
― Jarad Zimbler, author of J. M. Coetzee and the Politics of Style
This study argues that the most consistent concern in Coetzee's oeuvre is the question of what makes us human. Ideas of the human that stress language use, reason, self-consciousness, autonomy and God-likeness are revised in his novels via a 'poetic of testing' which pits intertextually referenced ideas against each other in polyphonic narratives. In addition to examining the philosophical provenance of questions of the human in the work of such thinkers as Plato, Hegel, Heidegger, Barthes and Foucault, the study charts Coetzee's reconfiguration of elements drawn from major literary precursors like Cervantes, Heinrich von Kleist, Kafka and Beckett. Its leading argument is that Coetzee revises the Enlightenment idea of the human as a disengaged, autonomous thinker by demonstrating the limitations of reason; that he instead offers a view of humanity as engaged agency, a view most compatible with ideas developed in the discourse of post humanism, theories of materiality and social practice theory; and that his revisions depend on narrative form as much as they recommend a narrative approach to ideas in general.