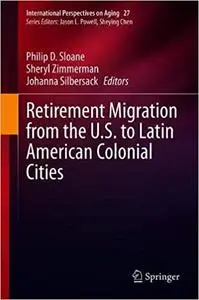 Philip D. Sloane, "Retirement Migration from the U.S. to Latin American Colonial Cities "
English | ISBN: 3030335429 | 2020 | 201 pages | PDF | 5 MB
This book provides a comprehensive overview of a growing phenomenon in migration: retired Americans moving to Latin America. Through in-depth profiles of two of the most popular destinations – Cuenca, Ecuador and San Miguel de Allende, Mexico, the book provides a unique commentary on the social forces shaping this new diaspora and its impact on the settings to which retirees relocate. Sections of the book address the lives and activities of retirees themselves; their impact on real estate, business development, and gentrification within historic cities; the availability and access to medical and long-term care services; and the role of governmental policies in attracting immigrant retirees and shaping their societal impact. Concluding sections provide guidance for potential retirees and for cities and countries interested in attracting these new immigrants while minimizing adverse impact on local culture and quality of life. Carefully researched and extensively illustrated with photographs, maps, figures, and tables, the book serves as an important new resource for scientists and policy makers, as well as for baby boomers who have retired abroad or are considering doing so.