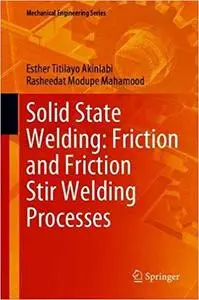 Esther Titilayo Akinlabi, "Solid-State Welding: Friction and Friction Stir Welding Processes "
English | ISBN: 3030370143 | 2020 | 145 pages | EPUB, PDF | 117 MB + 12 MB
This book presents critical information on the principles and operation of friction welding, friction stir welding, and friction stir processing enhanced with many robust illustrations. It explains the application of these technologies and the current research efforts in the field. The authors explain in detail the advantages offered by these welding processes, in particular their ability to join dissimilar materials not possible to weld in the past. Written for graduate students, researchers, and industrial professionals, the book reinforces concepts presented with case studies on the experimental analysis of welding the dissimilar materials of copper and aluminum, and on friction stir processing.