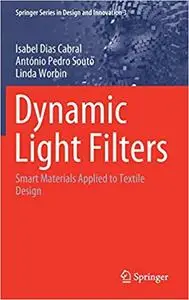 Isabel Dias Cabral, "Dynamic Light Filters: Smart Materials Applied to Textile Design "
English | ISBN: 3030395286 | 2020 | 221 pages | PDF | 11 MB
This book offers an extensive, interdisciplinary overview of dynamic textiles. Specifically, it discusses new findings and design concepts concerning the integration of smart materials into textile substrates and their corresponding dynamic behavior. Introducing the topic of dynamic color in textiles, it presents experimental procedures to achieve color change and dynamic light transmittance in thermochromic textiles, and examines their thermoresponsive behavior and respective electrical activation. Moreover, it also addresses the topic of dynamic form and reports on the authors' original findings using shape-memory alloys and geometric morphologies based on origami techniques. Covering innovative smart textiles and important considerations in terms of design variables when developing textiles with dynamic qualities, and providing extensive, practice-oriented insights into the interaction of textiles with light, it is primarily intended for academics, researchers and practitioners developing smart, dynamic and interactive textiles. The sections describing in detail the experimental work aimed at the integration of smart materials in textile substrates also appeal to professionals in the textile industry.