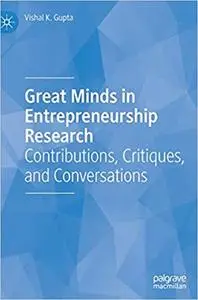 Vishal K. Gupta, "Great Minds in Entrepreneurship Research: Contributions, Critiques, and Conversations"
English | ISBN: 3030441245 | 2020 | 272 pages | EPUB, PDF | 629 KB + 3 MB
Awarded every year since 1996, the Global Award for Entrepreneurship Research (GAER) recognizes outstanding contributions in quality and importance to scientific research in entrepreneurship. This book examines the work of GAER award winners (1996–2020), discusses major contributions to the field, identifies critiques of their work, and highlights directions for future research. Students and faculty will find this book to be a rich resource for understanding the impact of leading entrepreneurship scholars.