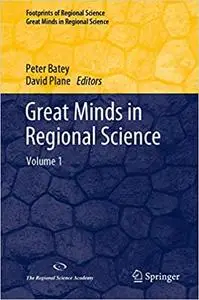 Peter Batey, "Great Minds in Regional Science: Volume 1 "
English | ISBN: 3030461564 | 2020 | 205 pages | EPUB, PDF | 5 MB + 4 MB
This is the first volume in a new series on `Great Minds in Regional Science,` which seeks to present a contemporary view on the scientific relevance of the work done by great thinkers in regional science. It presents, among others, Walter Isard, Martin Beckmann and Gunnar Myrdal. Each contribution combines factual biographical information, a description of their major contributions, and a discussion of the broader context of the work, as well as an assessment of its current relevance, scientific recognition and policy impact. The book attempts to fill a gap in our knowledge, and to respond to the growing interest in the formation and development of the field of regional science and its key influential figures.