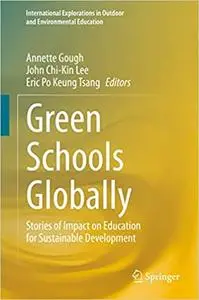 Annette Gough, "Green Schools Globally: Stories of Impact on Education for Sustainable Development"
English | ISBN: 3030468194 | 2020 | 472 pages | PDF, EPUB | 7 + 14 MB
Green Schools Globally brings together stories of the green school movements (Eco Schools, Enviroschools, Green Schools, Sustainable Schools, ResourceSmart Schools etc) in several countries around the world, with a focus on the impact of the movement on the development and implementation of education for sustainable development in each of the countries. In particular, each story explains the history of the movement per country, its current status, achievements, obstacles and broader impact.
Green schools focus on a whole school approach which aims to include everyone (students, teachers and the local community) to improve school environments, including resource usage and the environmental footprint of the school, to motivate students to take on environmental problems and seek resolutions particularly at a local level, but also thinking globally, and to improve students' attitudes and behaviours as part of developing a sustainability mindset. Here are their stories together in one volume for the first time.
A distinctive feature of Green Schools Globally is the diverse array of perspectives that illustrate why it was not easy being green. Readers will appreciate the courage and resilience of the people who have persisted in the 'stories of vision' as curriculum demands have increased across vastly differing cultural and education environments. They should also appreciate how well supported these school initiatives are, by decades of scientific and educational research. One might ask, on reading these fascinating tales of green schooling, exactly where responsibilities for our common futures must now reside. - Emeritus Professor Paul Hart, University of Regina, Canada
This Volume brings together a diverse group of dedicated emerging and established scholars and practitioners who are all committed to reorient education towards people and planet. Their collective wisdom has resulted in a rich collage of perspectives and practices from around the world, showing how schools can connect to the grand sustainability challenges of our time, not only by paying attention to key emerging topics, like climate urgency, in the curriculum, but also and, foremost, by connecting to the existential questions young people bring to school, and finding more relational and actionable pedagogies that will help them develop the competencies they need in creating a better tomorrow. - Professor Arjen E.J. Wals, Wageningen University, The Netherlands, UNESCO Chair