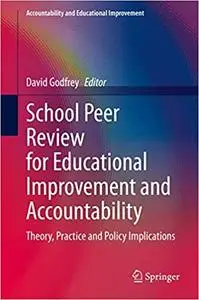 David Godfrey, "School Peer Review for Educational Improvement and Accountability: Theory, Practice and Policy Implications"
English | ISBN: 3030481298 | 2020 | 312 pages | EPUB, PDF | 8 + 4 MB
This book explores how peer reviews are used in school improvement, accountability and education system reform. Importantly, these issues are studied through numerous international cases and new empirical evidence. This volume also identifies and describes barriers and facilitators to the development, use, sustainability and expansion of school peer review.
School peer reviews are a form of internal evaluation driven by schools themselves rather than externally imposed, such as with school inspections. Schools collaborate with other schools in networks, collect data through self-evaluation and in school review visits. They provide feedback, challenge and support to each other. Despite the increased use of school peer review in system reform and school improvement, very little research has been conducted on this model and there is a dearth of literature that looks at the phenomenon internationally. This book fills this gap and will be an invaluable source for academics in school leadership and educational evaluation and accountability, as well as those working at the level of executive leadership in school networks, NGOs and in government policy-making.