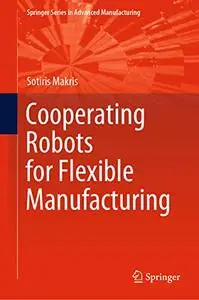 Cooperating Robots for Flexible Manufacturing
by Sotiris Makris
English | 2021 | ISBN: 3030515907 | 429 Pages | EPUB | 134 MB
This book consolidates the current state of knowledge on implementing cooperating robot-based systems to increase the flexibility of manufacturing systems. It is based on the concrete experiences of experts, practitioners, and engineers in implementing cooperating robot systems for more flexible manufacturing systems. Thanks to the great variety of manufacturing systems that we had the opportunity to study, a remarkable collection of methods and tools has emerged. The aim of the book is to share this experience with academia and industry practitioners seeking to improve manufacturing practice. While there are various books on teaching principles for robotics, this book offers a unique opportunity to dive into the practical aspects of implementing complex real-world robotic applications.