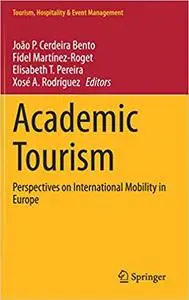 João P. Cerdeira Bento, Fídel Martínez-Roget, "Academic Tourism: Perspectives on International Mobility in Europe"
English | ISBN: 3030572870 | 2021 | 198 pages | PDF, EPUB | 3 + 5 MB
This book presents the latest knowledge on the still under-researched field of academic tourism, which over the past decade has gained in importance at local and national economic levels as a result of increasing international mobility of students and academic staff in higher education. A wide range of themes are explored from various perspectives, with the focus on Europe. Particular attention is paid to academic tourism demand, expenditure, and economic impact; the relationships between academic tourism and local and regional development, sustainable development, and environmental sustainability; and the importance of academic tourism for the internationalization of higher education and international cooperation and development. Further topics to be considered include the significance of academic tourism for the dynamics of tourism destinations and insights from experimental tourism research. In addition to theoretical chapters and state of the art reviews, readers will find insightful empirical and case studies. The book will be of interest to academics, researchers, students, and practitioners, including policy makers.