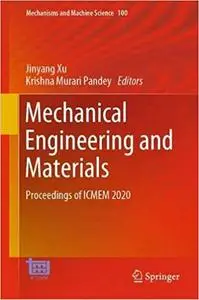 Mechanical Engineering and Materials
by Jinyang Xu
English | 2021 | ISBN: 3030683028 | 413 Pages | PDF EPUB | 77 MB
This book gathers the latest advances, innovations, and applications in the field of mechanical engineering, as presented by leading international researchers and engineers at the 2020 International Conference on Mechanical Engineering and Materials (ICMEM), held in Beijing, China on October 16-17, 2020. ICMEM covers all aspects of mechanical engineering and material sciences, such as computer-aided design, virtual design and design visualization, intelligent design, usability design, automobile structure, human-machine interface design, manufacturing engineering, aerospace engineering, automation and robotics, micro-machining, MEMS/ NEMS, composite materials, biomaterials, smart materials, superconducting materials, materials properties and applications, materials manufacturing, nanotechnology, nano-materials and nano-composites, etc. The contributions, which were selected by means of a rigorous international peer-review process, highlight numerous exciting ideas that will spur novel research directions and foster multidisciplinary collaborations.