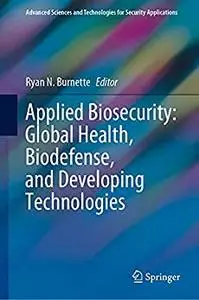 Applied Biosecurity: Global Health, Biodefense, and Developing Technologies
English | 2021 | ISBN: 3030694631 | 170 Pages | PDF | 4 MB
This book describes an adaptable biothreat assessment process to complement overall biorisk management programs, incorporating threat management and the unique natures of biological assets. Further, this book examines the nexus between public health, international security, and developing technologies, building a case for augmenting biosecurity to levels beyond the laboratory constraints. With the face of biological and biomedical sciences changing, this book describes how with proper biosecurity development, these can become assets, rather than liabilities, to secure our world from natural and man-made biological disasters. The world is changing rapidly with respect to developing threats, such as terrorism, and dual-use technologies, such as synthetic biology, that are challenging how we think about biosafety and biosecurity. Further, the fields of public health and international security are colliding, as both of these share the common enemy: intentional or natural biological incidents. To date, biosecurity has been limited to laboratory-level application, and complicating efforts, and lacks credentialed biosecurity professionals skilled in both the biological sciences and threat management techniques. The result is a fragmented field of practice, with tremendous need, from the lab to the outbreak. Underpinning these principles is the SARS-CoV-2 coronavirus pandemic, providing a historic milestone to examine biosecurity through a global lens.