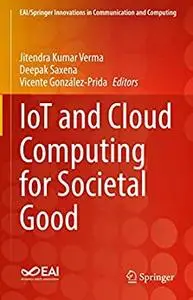 IoT and Cloud Computing for Societal Good
English | 2022 | ISBN: 3030738841 | 558 Pages | PDF EPUB | 36 MB
This book gathers the state-of-the-art for industrial application of scientific and practical research in the Cloud and IoT paradigms to benefit society. The book first aims to discuss and outline various aspects of tackling climate change. The authors then discuss how Cloud and IoT can help for digital health and learning from industrial aspects. The next part of book discusses technical improvements in the fields of security and privacy. The book also covers Smart Homes and IoT in agriculture. The book is targeted towards advancing undergraduate, graduate, and post graduate students, researchers, academicians, policymakers, various government officials, NGOs, and industry research professionals who are currently working in the field of science and technology either directly or indirectly to benefit common masses.