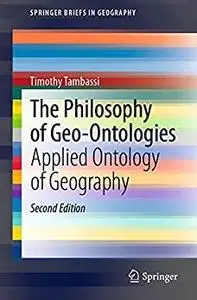 The Philosophy of Geo-Ontologies: Applied Ontology of Geography
English | 2021 | ISBN: 3030781445 | 168 Pages | PDF EPUB | 5 MB
Placed at the intersection among philosophy, geography, and computer science, the domain of investigation of applied ontology of geography ranges from making explicit assumptions and commitments of geography as a discipline, to the theoretical and technical needs of geographical/IT tools, such as GIS and geo-ontologies. Such a domain of investigation represents the central topic of discussion of this book, which intends: 1) to provide an overview of the mutual interactions among the disciplines encompassed in the domain; 2) to discuss notions such as spatial representation, boundaries, and geographical entities that constitute the main focus of the (philosophical) ontology of geography; 3) to propose a geographical classification of geo-ontologies in response to their increasing diffusion within the contemporary debate, as well as to show what ontological categories best systematize their contents. The second edition of the book differs from the first one as it offers a broader analysis of the (philosophical) ontology of geography: an analysis that is no more limited to the theoretical need of geo-ontologies.