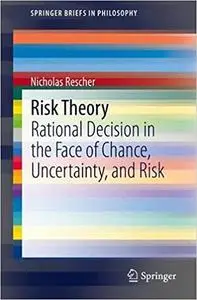 Risk Theory: Rational Decision in the Face of Chance, Uncertainty, and Risk
English | 2022 | ISBN: 3030785017 | 93 Pages | PDF EPUB | 5 MB
Apart from its foray into technical issues of risk assessment and management, this book has one principal aim. With situations of chancy outcomes certain key factors―including outcome possibilities, overall expectation, threat, and even luck―are measurable parameters. But risk is something different: it is not measurable a single parametric quantity, but a many-sided factor that has several different components, and constitutes a complex phenomenon that must be assessed judgmentally in a highly contextualized way. This book explains and analyzes how this works out in practice.