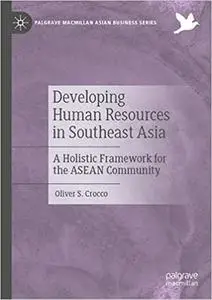 Oliver S. Crocco, "Developing Human Resources in Southeast Asia: A Holistic Framework for the ASEAN Community "
English | ISBN: 3030796965 | 2021 | 199 pages | EPUB, PDF | 698 KB + 3 MB
This book provides readers with a comprehensive introduction to human resource development (HRD) in Southeast Asia and offers a holistic framework for the phenomenon of Regional HRD in Southeast Asia. It argues that viewing HRD in ASEAN as a complex adaptive system is the most effective way to understand the expansive and multifarious processes and activities involved in Regional HRD.
As a region, Southeast Asia continues to emerge as one of the most dynamic and compelling in the world with a need to develop its human resources to further its independence, economic prosperity, and sovereignty. By focusing on a regional perspective of HRD, this book establishes the missing link in the transition from the national HRD to the global HRD perspective. Offering a framework for understanding how HRD policy and practice function within a dynamic ecosystem, this book appeals to scholars, practitioners, and policymakers alike, particularly those interested in ASEAN.