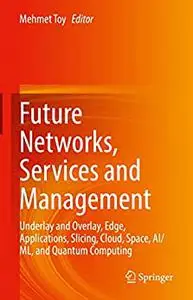 Future Networks, Services and Management: Underlay and Overlay,
Edge, Applications, Slicing, Cloud, Space, AI/ML, and Quantum Computing
English | 2021 | ISBN: 3030819604 | 461 Pages | PDF | 15 MB
This book describes the networks, applications, services of 2030 and beyond, their management. Novel end-to-end network and services architectures using cloud, wired, wireless, and space technologies to support future applications and services are presented. The book ties key concepts together such as cloud, space networking, network slicing, AI/ML, edge computing, burst switching, and optical computing in achieving end-to-end automated future services. Expected future applications, services, and network and data center architectures to support these applications and services in the year 2030 and beyond, along with security, routing, QoS, and management architecture and capabilities are described. The book is written by recognized global experts in the field from both industry and academia.