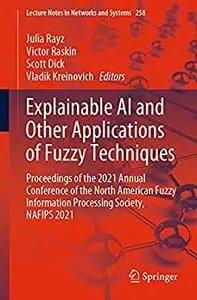 Explainable AI and Other Applications of Fuzzy Techniques
English | 2022 | ISBN: 303082098X | 519 Pages | PDF | 41 MB
This book focuses on an overview of the AI techniques, their foundations, their applications, and remaining challenges and open problems. Many artificial intelligence (AI) techniques do not explain their recommendations. Providing natural-language explanations for numerical AI recommendations is one of the main challenges of modern AI. To provide such explanations, a natural idea is to use techniques specifically designed to relate numerical recommendations and natural-language descriptions, namely fuzzy techniques.