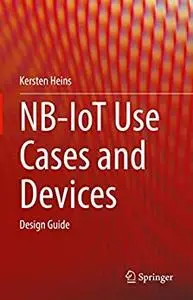 NB-IoT Use Cases and Devices: Design Guide
English | 2022 | ISBN: 3030849724 | 211 Pages | PDF EPUB | 23 MB
This book presents the cellular wireless network standard NB-IoT (Narrow Band-Internet of Things), which addresses many key requirements of the IoT. NB-IoT is a topic that is inspiring the industry to create new business cases and associated products. The author first introduces the technology and typical IoT use cases. He then explains NB-IoT extended network coverage and outstanding power saving features which are enabling the design of IoT devices (e.g. sensors) to work everywhere and for more than 10 years, in a maintenance-free way. The book explains to industrial users how to utilize NB-IoT features for their own IoT projects. Other system ingredients (e.g. IoT cloud services) and embedded security aspects are covered as well. The author takes an in-depth look at NB-IoT from an application engineering point of view, focusing on IoT device design. The target audience is technical-minded IoT project owners and system design engineers who are planning to develop an IoT application.