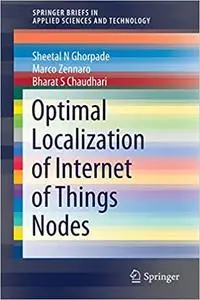 Optimal Localization of Internet of Things Nodes
English | 2022 | ISBN: 303088094X | 129 Pages | PDF | 3 MB
With the emergence of IoT, machine to machine communication, Industrial IoT, and other societal applications, many applications require knowledge of the exact location of mobile IoT nodes in real-time. As the IoT nodes have computational and energy limitations, it is a crucial research challenge to optimize the network's performance with the highest localization accuracy. Many researchers are working towards such localization problems. However, there is no single book available for the detailed study on IoT node localization. This book provides one-stop multidisciplinary solutions for IoT node localization, design requirements, challenges, constraints, available techniques, comparison, related applications, and future directions. Special features included are theory supported by algorithmic development, treatment of optimization techniques, and applications.