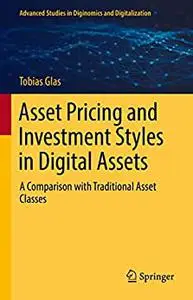 Asset Pricing and Investment Styles in Digital Assets: A Comparison with Traditional Asset Classes
English | 2022 | ISBN: 3030956946 | 475 Pages | PDF EPUB | 15 MB
This book analyzes the emerging asset class of digital assets. When a new asset class originates, researchers try to understand some basic questions: Can digital assets, with the flagship asset bitcoin, really be considered a serious asset class? Since it is possible to trade digital assets, does it make sense to trade or to invest in these assets? How do digital assets compare to traditional asset classes like equities or bonds?