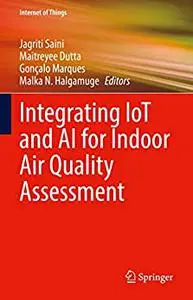 Integrating IoT and AI for Indoor Air Quality Assessment
English | 2022 | ISBN: 303096485X | 321 Pages | PDF EPUB | 15 MB
This book presents Internet of Things (IoT) solutions monitoring and assessing a variety of applications areas for indoor air quality (IAQ). This book synthesizes recent developments, presents case studies, and discusses new methods in the area of air quality monitoring, all the while addressing public health concerns. The authors discuss the issues and solutions, including IoT systems that can provide a continuous flow of data retrieved from cost-effective sensors that can be used in multiple applications.The authors present the leading IoT technologies, applications, algorithms, systems, and future scope in this multi-disciplinary domain.