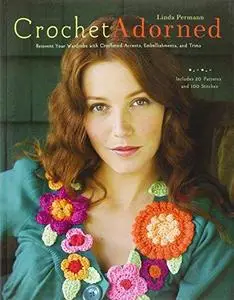 Crochet Adorned: Reinvent Your Wardrobe with Crocheted Accents, Embellishments, and Trims By Linda Permann
2009 | 160 Pages | ISBN: 0307451968 | PDF | 20 MB
Does last season's skirt need a little more flash? Want to breathe new life into your favorite tee? If you love crochet and quick, gratifying projects, Linda Permann will show you how to turn your old duds into a new wardrobe with yarn, a hook, and inspired ideas! By adding trims, embellishments and lace–or even changing the design of a garment–with simple crochet stitches, you can give your clothes a whole new look. These fun-to-make projects are a great second chance for clothes from your closet or thrifty finds–and they'll even look great with the gems already in your yarn stash. When someone asks, "Did you make that?" you will love to answer "Yes!"Plus, Linda shares new ideas for accessories and home decorating with projects that include earrings, aprons, and pillows. She'll guide you through color theory (to keep your clothes and yarn in harmony), help you develop an eagle eye for embellishable clothes (so that you can reap all the benefits of thrifty finds), and share all the details you need to know to customize each project to your own size and style. With helpful how-to instructions and illustrations, 20 inspired projects, and a stitch dictionary of extra trims, motifs, and patterns, you'll have all the tools you need to embellish anything and everything–just the way you like it.