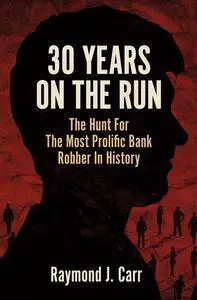 30 Years On the Run: The Hunt For The Most Prolific Bank Robber In History by Raymond J. Carr
English | February 1st, 2021 | ISBN: 1098340744 | 328 pages | True EPUB | 14.02 MB
30 YEARS ON THE RUN: THE HUNT FOR THE MOST PROLIFIC BANK ROBBER IN HISTORY, is told masterfully by author and retired FBI Special Agent Raymond J. Carr. Readers will follow the painstaking and extraordinary steps that led to the discovery of the most prolific bank robber in history, an evil genius who evaded police for 30 years and whose robberies totaled more than those of Bonnie and Clyde, John Dillinger, and Willie Sutton combined. This was Carr's case, and his story to tell.
As one of few FBI agents privileged to play a role in the early success of the FBI's formidable Behavioral Analysis Unit, known worldwide as the BAU, Carr delves into the fascinating world of profiling. Via actual FBI documents, the book details the offender's background, revealing the intimate discussions that helped Carr understand how the well-educated man chose a life of crime and circumvented law enforcement for decades.
Carr also discusses poignantly how he survived numerous roadblocks throughout the investigation, including the terrorist attacks on 9/11 and devastating family hardships. The notorious bank robber also suffered, and readers learn how a specific event in his youth changed the course of his life.
Enjoy
My Blog.
No any convert or low quality!