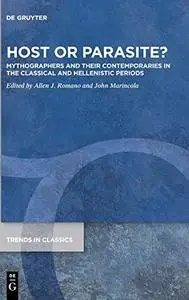 Host or Parasite?: Mythographers and Their Contemporaries in the Classical and Hellenistic Periods (Trends in Classics - Supplementary Volumes) by Allen J. Romano
October 21, 2019 | ISBN: 3110672790 | English | 202 pages | PDF/EPUB | 2/3 MB
Building upon the explosion of recent work on mythography, contributions to this volume direct attention to less frequently explored questions of how ancient poets, historians, and philosophers themselves adopted and adapted the work of mythographers. Study of the way that mythographers and their contemporaries take on positions of, alternately, "host" or "parasite" in relation to the other exposes the richness mythographic practice and the roles that mythographers played in the evolving Greco-Roman discourse of myth. From, among others, the seeds of mythographic discourse in Pindar and Plato, to the mythography of the Peripatics, the in-between mythography of Diodorus Siculus, and the "mythographic topography" of Pausanias, this volume invites a reappraisal of the role that mythography played at every stage of Greek thought about myth. Through contributions that explore both mythographers' distinctive style of studying myth to other contributions that focus primarily on the how and why of non-mythographers' use of mythographic techniques, what emerges is a picture of mythography that broadens our conception of mythography while at the same time inviting scholars to seek out more such echoes of mythographic discourse in the work of poets, historians, philosophers at large.