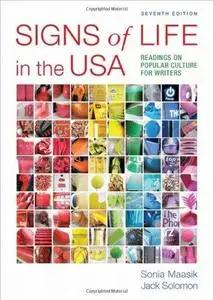 Signs of Life in the USA: Readings on Popular Culture for Writers By Sonia Maasik, Jack Solomon
2011 | 744 Pages | ISBN: 031264700X | PDF | 7 MB
Signs of Life in the USA teaches students to read and write critically about popular culture by giving them a conceptual framework to do it: semiotics, a field of critical theory developed specifically for the interpretation of culture and its signs. Written by a prominent semiotician and an experienced writing instructor, the text's high-interest themes feature provocative and current reading selections that ask students to think analytically about America's impressive popular culture:  How is TV's Mad Men a lightning rod for America's polarized political climate? Has the nature of personal identity changed in an era when we spend so much of our lives online? Signs of Life bridges the transition to college writing by providing students with academic language to talk about our common, everyday cultural experience.