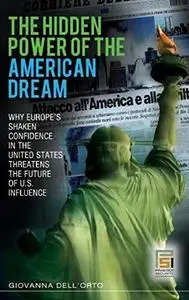 The Hidden Power of the American Dream: Why Europe's Shaken Confidence in the United States Threatens the Future of U.S. Influence By Giovanna Dell'Orto
2007 | 232 Pages | ISBN: 0313348189 | PDF | 2 MB
On the day after the tragic terrorist attacks of 9/11, newspapers across Europe proclaimed, We Are All Americans in many different languages, crystallizing the solidarity that so many people around the world felt at that time. But in the years since, that beautiful friendship between Americans and Europeans evaporated, leaving in its place a growing resentment so deep that Americans traveled overseas with Canadian flags stitched to their backpacks while Europeans held candlelight vigils for the removal of President George W. Bush. Dell'Orto argues persuasively that the answer to the question of where do we go from here lies in whether non-Americans keep believing in the American dream. Only if that dream continues to be the root of America's power—as this book shows it has been since the United States first stepped onto the international stage—can America not go the way of all other superpowers in history: down and out.Through analysis of thousands of Western European media articles and government publications about the United States, this book, for the first time, shows what the essence of America is to non-Americans and why that matters to Americans in a very practical way—because it sets limits to what the nation can accomplish. Dell'Orto argues persuasively that Europe's United States is the revered concept America—the exceptional dream that the land of (plenty of) opportunity can really exist, that the experiment in democracy can really work for all those who choose to become Americans.This is a great U.S. asset, since it makes America uniquely powerful in Europe's eyes, infinitely mightier than the march of Marines and McDonald's alone would warrant. Herein lie the uniqueness and the urgency of this book. European public opinion shape's Europe's reaction at least as much as U.S. actions do.