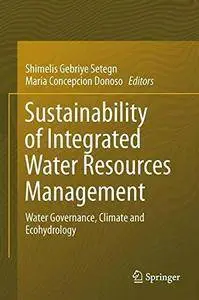 Sustainability of Integrated Water Resources Management: Water Governance, Climate and Ecohydrology By Shimelis Gebriye Setegn, Maria Concepcion Donoso
2015 | 610 Pages | ISBN: 3319121936 | PDF | 12 MB
The main focus of this book is sustainable management of water resources in a changing climate. The book also addresses the question of how to define and measure the sustainability of Integrated Water Resources Management (IWRM). The sustainability of IWRM is an important issue when planning and/or developing policies that consider the impact of climate change, water governance and ecohydrology in the context of a more holistic approach to ensure sustainable management of water resources. Sustainable IWRM is more about processes, and relatively little systematic or rigorous work has been done to articulate what components are the most essential to ensure the ongoing sustainability of IWRM efforts. The chapters cover topics including global prospective of IWRM; allocation of environmental flows in IWRM; echohydrology, water resources and environmental sustainability; climate change and IWRM; IWRM and water governance including social, economic, public health and cultural aspects; climate change resiliency actions related to water resources management sustainability and tools in support of sustainability for IWRM. This book will be of interest to researchers, practitioners, water resources mangers, policy and decision makers, donors, international institutions, governmental and non-governmental organizations, educators, as well as graduate and undergraduate students. It is a useful reference for Integrated Water Resources Management (IWRM), ecohydrology, climate change impact and adaptations, water governance, environmental flows, geographic information system and modeling tools, water and energy nexus and related topics.