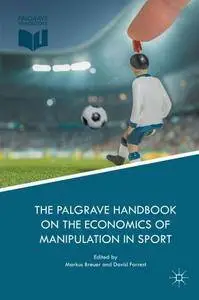 The Palgrave Handbook on the Economics of Manipulation in Sport By Markus Breuer, David Forrest (eds.)
2018 | 339 Pages | ISBN: 3319773895 | PDF | 3 MB
Sport has enjoyed steadily increasing prominence and economic importance since the Millennium. But threats to its integrity appear to have grown in parallel, undermining the very sense of innocence and fun which is an important part of its appeal. Threats to the spirit of sport come from internal, external and even state actors, who seek either to manipulate events on the field or to exploit the institutions of sport for their own ends. As the reputation of sport becomes more tarnished as a result, its sustainability as a significant part of the entertainment industry is called into question and loss of reputation may even result in decline in recreational play. In this wide-ranging collection of essays, the international team of contributors explores the structural economic sources of the problems that beset sport and address the question of 'what is to be done?' through economic reasoning. Specific topics covered include doping, match-fixing for betting or sporting gain, the role of forensic statistics in detecting nefarious activity, issues related to club ownership, corruption in the awarding of mega-events and within sports governing bodies, and the role of the law and the Court of Arbitration for Sport. In the final chapter, the Editors pull together the various strands and propose that policy to mitigate the threat to fair play should be built around two themes: improving sports governance and designing incentives to help actors in sport choose honest over manipulative behaviour. The book will appeal to practitioners from sport management as well as to academics including students and researchers.