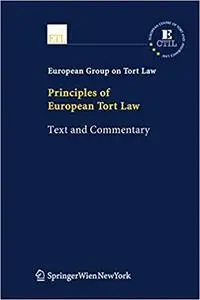 European Group on Tort Law, "Principles of European Tort Law: Text and Commentary"
English | 2005 | pages: 291 | ISBN: 321123084X | PDF | 13,0 mb
The European Group on Tort Law presents the results of its extensive research project, the Principles of European Tort Law. They were drafted on the basis of several comparative studies on the most fundamental questions of tortious liability and the law of damages. The Principles are not a mere restatement of the common core of tort law in Europe, but rather a proposal for a comprehensive system of tortious liability for the future, though necessarily linked to existing regimes. They are meant to stimulate discussion both among academics and practitioners and could serve as guidelines for national legislatures, thereby fostering gradual harmonization. The text of the Principles, which is offered in English and several other languages, is accompanied by commentaries on the various parts elaborating their intended meaning and interplay.
My Link