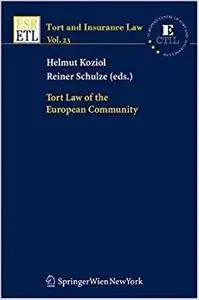 Helmut Koziol, Reiner Schulze, "Tort Law of the European Community"
2008 | pages: 692 | ISBN: 3211775854 | PDF | 3,3 mb
This publication deals with the European dimension of tort law. It provides a critical analysis of the acquis communautaire, asking if and to what extent the provisions and case law in the field of tort law are based on a conclusive system and are in accord with the national legal systems. It thus evaluates whether the acquis communautaire form the beginning of a comprehensive and coherent EC tort law or if the single directives and regulations are contradictory and lack a general concept that is yet to be found.
To gain an overview of EC Tort Law certain provisions and decisions were analysed by a group of authors under thirteen elements that form the basis of tort law e.g. fault/strict liability, causation, damage, damages and limitation of actions. An analysis of these aspects was then undertaken by another group of authors each focusing on their respective legal families within the European Union. The publication also contains a section on terminological issues in EC tort law.
My Link