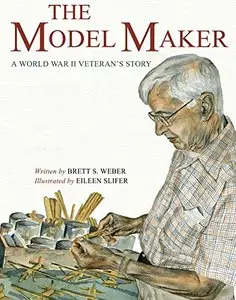 The Model Maker: A World War II Veteran's Story by Brett Weber
English | December 16, 2014 | ISBN: 1419651803 | ASIN: B00R3T3WDS | 40 Pages | EPUB/MOBI/AZW3/PDF (Converted) | 19.78 MB
The Model Maker is inspired by the personal account of a World War II veteran's experiences during the Battle of the Bulge.
Bill spends a good deal of his time working on his model airplanes. They mean more to him than just a usual hobby, however. They remind him of a time and a place when these
models were replaced with real planes, and his tranquil, rural setting was replaced with gunfire, thick forests, and an ever-present danger.
Through his models, he recalls his story in a simple, quiet way that belies the harsh reality of the Battle of the Bulge.
This story is meant to capture the interest of the young reader, and to serve as a springboard into an important historical lesson. The event of World War II was a pivotal point in modern history. It is imperative that the lessons learned by this 'Greatest Generation' should never be lost or forgotten.