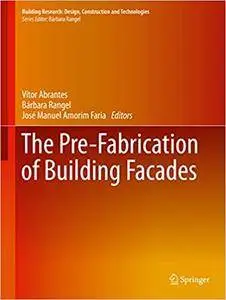 Vitor Abrantes, Bárbara Rangel, José Manuel Amorim Faria, "The Pre-Fabrication of Building Facades"
English | 2016 | ISBN: 3319226940 | PDF | pages: 96 | 8.5 mb
This book compares two buildings with different technologies and distinct environment from the combined viewpoints of civil engineering and architecture. The first is the most recent building of Columbia University in New York, the Northwest Science Building, a project designed by Rafael Moneo and Dan Brodkin of Ove Arup. The second one is the Burgo Tower in Oporto, by Eduardo Souto Moura and Rui Furtado of AFA, a building that brings a new perspective to the use of prefabrication technologies with local traditional construction systems. With the detailed analyses of recognized researchers in civil engineering and architecture, this book is a reflection upon the problems and solutions in the design and construction process of a prefabricated building system. This volume, like those to follow, brings together, building research and building design practice to enhance the knowledge of complementarity areas involved in construction, engineering and architecture.
 This is the first book in a new series "Building Research: Design, Construction and Technologies" which aims to bridge scientific research and professional practice to understand the Building Design problems. In each edition, one or two case studies (recognized buildings in the international design panorama) are analyzed with their authors to assess the design process and the construction development. To understand the problems involved, researchers, engineers and architects, are asked to contribute to this ana
lysis with essays on building research issues, as building technology, construction management, acoustics, maintenance or prefabrication.