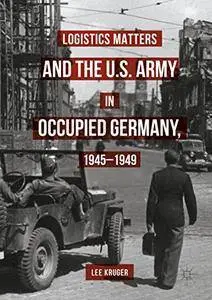 Lee Kruger, "Logistics Matters and the U.S. Army in Occupied Germany, 1945-1949"
English | ISBN: 3319388355 | 2016 | 290 pages | PDF | 3 MB
This book examines the U. S. Army's presence in Germany after the Nazi regime's capitulation in May 1945. This presence required the pursuit of two stated missions: to secure German borders, and to establish an occupation government within the assigned U.S. zone and sector of Berlin. Both missions required logistics support, a critical aspect often understated in existing scholarship. The security mission, covered by the combat troops, declined between 1945 and 1948, but grew again with the Berlin Blockade/Airlift in 1948, and then again with the Korean crisis in 1950. The logistics mission grew exponentially to support this security mission, as the U.S. Army was the only U.S. Government agency possessing the ability and resources to initially support the occupation mission in Germany. The build-up of 'Little Americas' during the occupation years stood forward-deployed U.S. military forces in Europe in good stead over the ensuing decades.