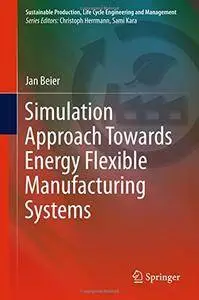 Simulation Approach Towards Energy Flexible Manufacturing Systems (Sustainable Production, Life Cycle Engineering and Management) by Jan Beier
English | 9 Apr. 2017 | ISBN: 3319466380 | 256 Pages | PDF | 8.21 MB
This authored monograph provides in-depth analysis and methods for aligning electricity demand of manufacturing systems to VRE supply. The book broaches both long-term system changes and real-time manufacturing execution and control, and the author presents a concept with different options for improved energy flexibility including battery, compressed air and embodied energy storage. The reader will also find a detailed application procedure as well as an implementation into a simulation prototype software. The book concludes with two case studies. The target audience primarily comprises research experts in the field of green manufacturing systems.