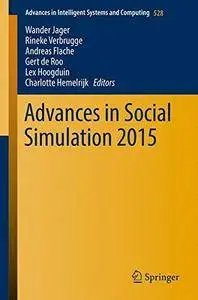 Advances in Social Simulation 2015 (Advances in Intelligent Systems and Computing) by Wander Jager
English | 16 Apr. 2017 | ISBN: 3319472526 | 480 Pages | PDF | 10.02 MB
This book highlights recent developments in the field, presented at the Social Simulation 2015 conference in Groningen, The Netherlands. It covers advances both in applications and methods of social simulation. Societal issues addressed range across complexities in economic systems, opinion dynamics and civil violence, changing mobility patterns, different land-use, transition in the energy system, food production and consumption, ecosystem management and historical processes. Methodological developments cover how to use empirical data in validating models in general, formalization of behavioral theory in agent behavior, construction of artificial populations for experimentation, replication of models, and agent-based models that can be run in a web browser.
Social simulation is a rapidly evolving field. Social scientists are increasingly interested in social simulation as a tool to tackle the complex non-linear dynamics of society. Furthermore, the software and hardware tools available for social simulation are becoming more and more powerful. This book is an important source for readers interested in the newest developments in the ways in which the simulation of social interaction contributes to our understanding and managing of complex social phenomena.