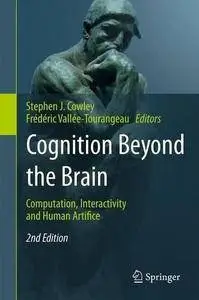 Cognition Beyond the Brain: Computation, Interactivity and Human Artifice by Stephen J. Cowley
English | 5 Apr. 2017 | ISBN: 3319491148 | 342 Pages | PDF | 6.32 MB
This book challenges neurocentrism by advocating a systemic view of cognition based on investigating how action shapes the experience of thinking, placing interactivity at its heart. This systemic viewpoint makes three main claims. First, that many elaborate cognitive skills like language, problem solving and human-computer interaction (HCI) are based in sense-saturated coordination or interactivity. Second, interactivity produces a tightly woven scaffold of resources, some internal to the agent and others external, that elevates and transforms thinking. Third, human agents entwine brains, bodies and their surroundings as they manage multi-scalar dynamics.
This new edition continues to demonstrate how a systemic perspective casts a productive light on thinking in applied domains such as crime scene analysis, the use of information technology in construction, and computer-meditated trusts and presents new studies on the cognitive ecology of the web, multi-scalar temporal and organisational cognition and the importance of interactive material engagement in digital architecture. Authors use various scales of the systemic viewpoint to illustrate how bodies and artefacts shape thinking, but in all cases the experience of materiality is meshed with activity that involves the world beyond the body