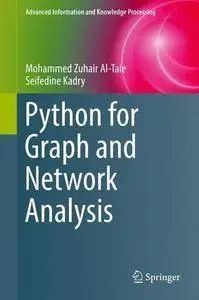 Python for Graph and Network Analysis (Advanced Information and Knowledge Processing) by Mohammed Zuhair Al-Taie
English | 18 Apr. 2017 | ISBN: 3319530038 | 203 Pages | PDF | 12.96 MB
This research monograph provides the means to learn the theory and practice of graph and network analysis using the Python programming language. The social network analysis techniques, included, will help readers to efficiently analyze social data from Twitter, Facebook, LiveJournal, GitHub and many others at three levels of depth: ego, group, and community. They will be able to analyse militant and revolutionary networks and candidate networks during elections. For instance, they will learn how the Ebola virus spread through communities.