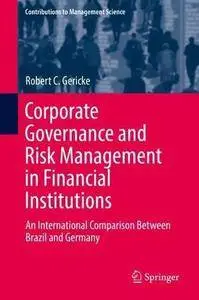 Corporate Governance and Risk Management in Financial Institutions: An International Comparison Between Brazil and Germany (Contributions to Management Science) by Robert C. Gericke
English | 30 Apr. 2018 | ISBN: 3319673106 | 244 Pages | PDF | 7.67 MB
This book presents an overview of corporate governance and risk management, analyzing their interdependence and particularly their relevance in banking. It discusses current trends in corporate governance, such as stakeholder management, financial performance and the cost of equity, compensation schemes, board structures and shareholder activism. Further, it reviews some of the most important regulatory changes introduced since the latest financial crisis and highlights their impact on the annual reports of the banks under analysis. Lastly, the book assesses and compares major banks in Brazil and Germany with special emphasis on the aspects mentioned above, revealing surprising similarities between the banking systems of these otherwise disparate countries.