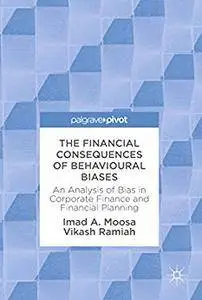 The Financial Consequences of Behavioural Biases: An Analysis of Bias in Corporate Finance and Financial Planning by Imad A. Moosa
English | 30 Nov. 2017 | ISBN: 3319693883 | 174 Pages | PDF | 2.9 MB
This book provides a concise analysis of behavioural biases and their implications for financial decision making. The book is written in the normative tradition, arguing strongly for the superiority of behavioural finance with respect to explaining observed phenomena in financial markets. It offers some unique features, including a discussion of the issue of conspiracy theory and how behavioural biases lead to belief in conspiracy theories. Lingering belief in the principles of neoclassical finance is attributed in part to the doctrine of publish or perish, which dominates contemporary academia. The offshoots of behavioural finance are discussed in detail, including ecological finance, environmental finance, social finance, experimental finance, neurofinance, and emotional finance. A comprehensive discussion of narcissism is presented where it is demonstrated that narcissistic behaviour is prevalent in the finance industry and that it led to the eruption of the global financial crisis.