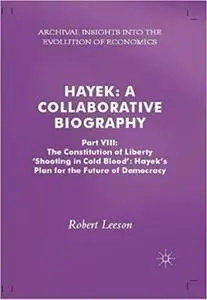 Robert Leeson, "Hayek: A Collaborative Biography: Part VIII: The Constitution of Liberty: 'Shooting in Cold Blood', Hayek's Plan for the"
English | ISBN: 3319780689 | 2019 | 714 pages | EPUB, PDF | 1120 KB + 8 MB
This book is the eighth volume in this Collaborative Biography, which explores the life and works of Nobel Prize-winning economist F.A. Hayek (1899-1992). Making extensive use of archival material and Hayek's own published writings, it presents a strong challenge to perceptions of the economist's life and thought. In this volume, chapters canvas subjects such as the relationship between the Austrian School of Economics and the Cold War, the Hapsburg Empire, and the overthrow (or planned overthrow) of democracy in a variety of countries, with a view to examining the process by which economics is constructed and disseminated.