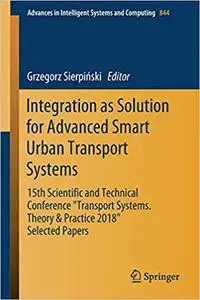 Integration as Solution for Advanced Smart Urban Transport Systems by Grzegorz Sierpiński
English | 2018 | ISBN: 331999476X | 280 pages | PDF | 28,6 MB
Methods of advanced data collecting and their analysis, models which help with decision problems as well as technical solutions which improve the integrity of contemporary transport systems at urban area are only some of many problems connected with integration in passenger and freight transport which have been discussed in this book. The book expresses case study-based scientific and practical approach to the problems of contemporary transport systems. The proposed methods and models enable a system approach to assess current solutions. In turn, implementation proposals may support the improvement of the integrity of individual elements of transport systems, and thus increase its effectiveness on the global scale.
With regard to the research results discussed and the selected solutions applied, the book primarily addresses the needs of three target groups:
• Scientists and researchers (ITS field)
• Local authorities (responsible for the transport systems at the urban and regional level)
• Representatives of business (traffic strategy management) and industry (manufacturers of ITS components).
This book gathers selected papers presented at the 15th Scientific and Technical Conference "Transport Systems. Theory and Practice" organised by the Department of Transport Systems and Traffic Engineering at the Faculty of Transport of the Silesian University of Technology. The conference was held in Katowice, Poland on September 17–19, 2018.
My nickname -
interes