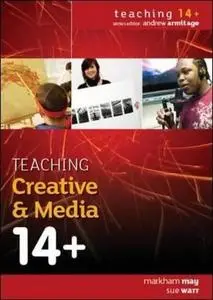 Teaching Creative Arts & Media 14+ By Markham May, Sue Warr
2011 | 162 Pages | ISBN: 0335237525 | PDF | 4 MB
This book offers guidance and ideas on how to make creative arts and media teaching relevant, stimulating and above all creative. The book responds to the economic and cultural changes in society in the 21st century and the needs of learners growing up in a sophisticated digital and competitive world. Creative Arts and Media 14+ provides fresh teaching approaches in order to motivate and develop learners' knowledge and skills. May and Warr outline key concepts and ideas in the creative arts and media world, as well as how these ideas are recorded and transmitted. They distinguish between different pedagogic approaches and techniques and explore their application within creative arts and media learning. The book draws on different types of resources, including those outside the classroom that can enhance your delivery of theoretical concepts. The authors acknowledge the changing nature of qualifications and suggest suitable strategies for the delivery and assessment of creative arts and media programmes. Creative Arts and Media 14+ supports trainee and experienced teachers involved in creative arts and media programmes for pupils 14+ whether they are learning in schools, adult and community education or colleges.