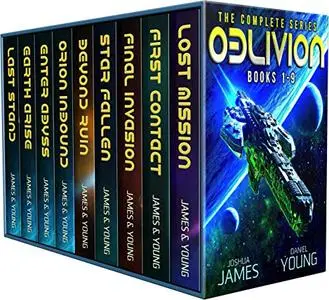 Joshua James, Daniel Young, "Oblivion: The Complete Series (Books 1-9)"
English | 2020 | ASIN: B08CZZP9Q6 | 1504 pages | EPUB / MOBI | 4.88 MB
"Alien invasion with an awesome twist!"
INCLUDES AN EXCLUSIVE BONUS STORY AND A PREVIEW OF THE OUTCAST STARSHIP SERIES
Over 2,000 pages of nonstop action! Two decades of bitter war between Earth and her furthest colonies is finally at an end. Captain Lee Saito's massive new starship is sent to seal the uneasy truce.
But a series of terrorist attacks on Earth and the mysterious acts of a strange cult threaten to derail the fragile peace.
When the mission goes awry, Saito must try to salvage what he can in deep space while his estranged son must navigate a conspiracy back on Earth that could implicate the highest levels of government.
As it all spirals out of control, the future of humanity hangs in the balance.
Includes all 9 books in the Oblivion series:
Lost Mission
First Contact
Final Invasion
Star Fallen
Beyond Ruin
Orion Inbound
Enter Abyss
Earth Arise
Last Stand