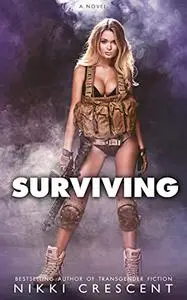 Nikki Crescent, "Surviving"
English | 2021 | ASIN: B095XD4QJC | 109 pages | EPUB | 0.35 MB
Harmon has been alone for sixteen months, since the outbreak started, hiding like a mouse in a desolate city. Dangerous creatures who were once human prowl the streets during the day, and it seems like it's only a matter of time before they sniff Harmon out.
He is convinced that he's the last surviving human, and then, during a late-night search for food, a truck roars by. He spends a few nights tracking that truck down, and then he finds it, along with a compound full of survivors. They have large walls and food and heavily-armed guards. It seems like a gift from the heavens, until the guards tell Harmon to turn around. They don't need more men. They only want young, fertile women capable of creating the next generation.
Devastated, Harmon retreats to an apartment building a few miles away. He keeps an eye on that compound from high up on the building's fifteenth floor. He's got enough food to last him a few weeks, and that should be enough time to make a convincing transformation.