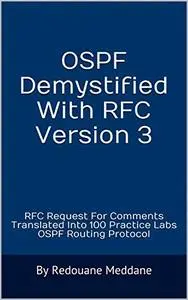 Redouane Meddane, "OSPF Demystified With RFC Version 3: RFC Request For Comments Translated Into 100 Practice Labs OSPF Routing Protocol"
English | 2016 | ASIN: B01FOJYVZG | 1604 pages | AZW3 | 11.2 MB
Introduction:
This book is written with atypical scenarios about OSPF Protocol explained with another view, in constrast with other resources and the only book in the market that explains OSPF with RFCs Request For Comments, more important, demystifying the different RFC 's behavior regarding path selection, NSSA Area options with RFC 1587 and 3101, OSPFv2 and OSPFv3 's behavior when moving from RFC 1583 to RFC 2328 and from RFC 1583 to RFC 5340 respectively, understanding how the RFCs explain and influences OSPF is very important, it gives you a way to look inside OSPF Packets, such as LSA Types, LSDB and NSSA Area Types, to understand what inside OSPF LSAs, what happen and why this happen? why the P-bit should be cleared in some situations and why it should be set, why the Forward Address must be set and why it must cleared, how suboptimal routing or routing loop can occur in OSPF and so on.
Many questions are answered in 100 scenarios step by step that you will not find elsewhere. This workbook needs a solid knownledges so that you can understand and reproduce the scenarios.