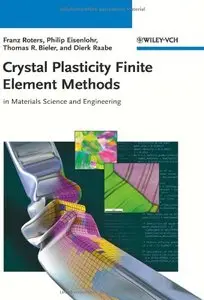 Franz Roters, Philip Eisenlohr, Thomas R. Bieler, Dierk Raabe, "Crystal Plasticity Finite Element Methods: in Materials Science and Engineering"
W ey-V H | 2010 | ISBN: 352732447X | 208 pages | PDF | 4,1 MB
Written by the leading experts in computational materials science, this handy reference concisely reviews the most important aspects of plasticity modeling: constitutive laws, phase transformations, texture methods, continuum approaches and damage mechanisms. As a result, it provides the knowledge needed to avoid failures in critical systems udner mechanical load.
With its various application examples to micro- and macrostructure mechanics, this is an invaluable resource for mechanical engineers as well as for researchers wanting to improve on this method and extend its outreach.
Download