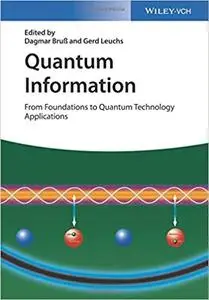 Dagmar Bruss and Gerd Leuchs, "Quantum Information, 2 Volume Set: From Foundations to Quantum Technology Applications, 2 edition"
English | ISBN: 3527413537 | 2019 | 512 pages | PDF | 19 MB
This comprehensive textbook on the rapidly advancing field introduces readers to the fundamental concepts of information theory and quantum entanglement, taking into account the current state of research and development. It thus covers all current concepts in quantum computing, both theoretical and experimental, before moving on to the latest implementations of quantum computing and communication protocols. It contains problems and exercises and is therefore ideally suited for students and lecturers in physics and informatics, as well as experimental and theoretical physicists in academia and industry who work in the field of quantum information processing.
The second edition incorporates important recent developments such as quantum metrology, quantum correlations beyond entanglement, and advances in quantum computing with solid state devices.